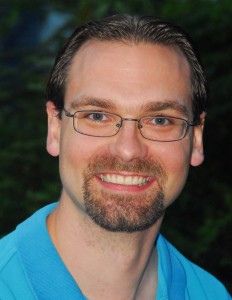 Rosendale's newest candidate, Alex Ferguson, age 33, is vying for a seat on the town council, as part of the Democratic slate. The Tillson Estates resident moved to Rosendale with his wife four and a half years ago from Los Angeles, Calif. They are expecting a baby.
"I was born in Utah, lived there until I was ten, then moved to Columbia, Md.," Said Ferguson. He graduated from the University of Maryland, before relocating to Pasadena. His wife took a job at SUNY New Paltz, bringing the couple to the Hudson Valley. Ferguson works with computer software development.
"Last year I got on the Rosendale Climate Task Force," he recalled. "I've been doing the greenhouse gas emissions inventory for the town," taking stock of energy consumption. His calculations helped Rosendale save money through lighting upgrades in municipal buildings.
"I will represent all the people of Rosendale," Ferguson promised, with an emphasis on "keeping this world usable for our children, because they are our future." Alex intends to increase communication with the populous via technology, for example streaming board meetings over the internet, and facilitating real-time public chat sessions with officials.
"I'm really good at listening," Ferguson indicated. "I'm going to make sure everybody has a say." He noted, "I think participation in the town needs to come up." Most of the decisions he'll be making are approval of mundane day-to-day operations, Ferguson conceded. However, "I do want to rebuild the American Dream right here in Rosendale, by revitalizing the Rt. 32 corridor."
"The way we do that is through incentive zoning — to make it a little more flexible for businesses to come in. We'd like to try to court a pharmacy, a local grocery store, see if we can get them to come in to that corridor." Ferguson said it is difficult for Rosendale residents to go food shopping all the way up in Kingston.
"It's important that we have our infrastructure," Ferguson declared. Joking about the James Street collapse into the Rondout Creek, he quipped, "I know that the residents of James Street are pretty happy with it — they're thinking of throwing a block party, because there's so little traffic on it now."
Ferguson says he's prepared to weather the rough-and-tumble brickbats of public service in this controversially divisive town. "It is what I'm signing up for, like it or not," he remarked. "Hopefully we can bring the community together, but where that's not possible, I will definitely take a stand for what I believe."
Going door-to-door, he said, "you get to hear people's concerns." Taxes and foreclosures are the most common gripes he hears, Ferguson indicated. "Like it or not, we're all neighbors," Ferguson observed.
Ferguson added he'd be happy to debate his opponents. Alex has a website at alexander-ferguson.com , and his slate is at rosendaledemocrats.com .