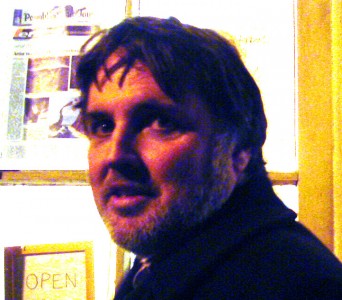 Iconoclast art maverick Michael X. Rose made the rounds in downtown Kingston Saturday night. He kicked off the evening hosting a fundraiser at Kingston Museum of Contemporary Art (KMOCA) gallery on Abeel Street, offering small versions of his macabre paintings for pennies on the dollar.
Later, Rose and his entourage of 75 followers hiked uphill towards the Celebration Wedding Chapel on nearby Wurts Street, for a sneak preview showing of a bizarre short film produced by this creative oddball.
Bloodlust of the Druid Overlords is billed as a classic horror flick, based on the good versus evil theme. Its protagonist is Saint Patrick. "He's a real guy who lived, he's not a myth, you can read his writings," Rose said. "He fought the Druids, walked through fire, and turned the Irish people from human sacrifice into Christians," Rose added.
Rose plays the star role, and also wrote the screenplay and music, additionally performing the soundtrack. He spent roughly $20,000 on the endeavor, shooting entirely within Ulster County. "It's fabulous what goes on around here, you have cliffs, caves, rivers, lakes," he noted.
Motivation for the film is unclear. Rose maintains he was inspired by his own paintings, and wished to see those canvas works translated to celluloid. "No goal, just to make it, see what it looked like," Rose explained. "I'm not into fame, I don't want anyone to know who I am," he said.
His desire for obscurity and weirdness led Rose to submit a hoax autobiography to the Poughkeepsie Journal earlier this month — complete with an ersatz portrait lifted from an old record album. "It's kind of a coup, to have my fake photo published as me in the paper," Rose said. "So now when you Google my name, you'll find this fake rocker from the seventies," he grinned.
PoJo took the bait, and published Rose's absurd tract — as a serious art feature — on Jan. 4th. "My life began as a street urchin in Amsterdam. Thankfully, I was found and taken in by a Belgian order of Dominican nuns. They raised me in an orphanage outside of Brussels," reads the prank article.
"It's funny to watch a horror movie, and the crowd is laughing," Rose observed. "I was laughing at the same time as well," he admitted. "A lot of it's embarrassing, to see me acting as something, because I'm not an actor." The devout filmmaker was helped out by his wife and seven children, many of whom took additional casting roles.
Amateurs were joined by more experienced crew. Film editor and sound designer Jeff Burns of Brooklyn, worked on several documentaries plus one feature, prior to joining Rose. "I really enjoyed working on it," Burns said. "This film represents an interesting form of horror that not a lot of people are producing right now," he remarked.
The sneak preview wasn't without critics. "I though it was stupid," said Rosendale photographer Betty Greenwald, "although it looks like they had a lot of fun making it."
For more info visit http://michaelxrose.com .
See film trailer here: http://www.youtube.com/watch?v=JuvUgEMtwpE
Watch sneak preview (bootleg cam): http://www.youtube.com/watch?v=u7-2u5W4JeM
Kickstarter promo with trailer: http://www.kickstarter.com/projects/michaelxrose/bloodlust-of-the-druid-overlords-film