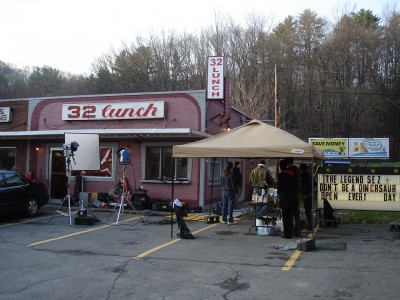 A small film crew from New York University spent the afternoon filming a scene Patricia Gillespieat Rosendale's 32 Lunch restaurant in Fann's Plaza last week. "Sparrow Lane" is the doctoral thesis for graduate student , who hails from the area of nearby Catskill, NY. Many of the film's scenes are located in the Hudson Valley.
Gillespie, according to promoters, has worked in the past with Emmy Award winning filmmakers George Stoney, Judith Helfand, and Jim Brown. She also write, directs, produces, and occasionally shoots her own films, the most recently "Dirt: Dying Green in NY," which was exhibited at NYC's Rubin Museum of Art last year.
"Sparrow Lane" is described by Gillespie as "a tale about America's economic tailspin, our foreclosure crisis, and our forgotten and struggling working and middle classes." More particularly, she says, "it's about family, home, honor, love, and the dignity of labor."
The film centers around protagonist Hudson Flannery, a young man working to save his family & home from foreclosure, explained producer Erica Houle. Flannery, she said, cares for the children of his older brother, a prize boxer who died in the ring.
In the story, a labor picket in town forces Flannery to chose between family values — Flannery's dad was a union organizer — and surviving in modern America. He could cross the picket line and become a scab, or instead start dealing drugs to maintain solvency.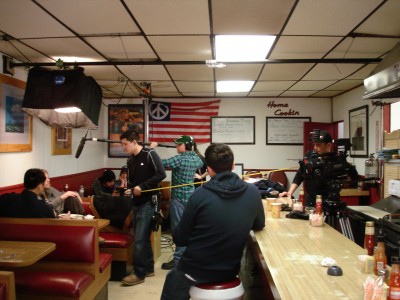 It was the second video production shot at 32 Lunch this season. Last month, YOURBGM.TV shot an episode of "Good to Go" at the eatery. This online video journal explores all of the great places in the Hudson Valley where you can get a quick bite to eat, including cafes, delis, and hot dog stands. But if you wish to taste a bite of this Rosendale mainstay, better be on time: 32 Lunch closes promptly every day at 3pm.
"I gotta get a reality show or something," exclaimed 32 Lunch owner Noli Lymberopoulos, who recently started a Facebook page to promote his business on the internet. Noli, a Kingston resident, has operated the establishment since 1984, known for its 1950s-style decor, and traditional small-town atmosphere. There, old-timers and newcomers alike eat side-by-side, amidst the smell of fresh food, local banter, and the occasional political argument.
In related news, local zombies who participated in last Autumns Rosendale Zombie Crawl were invited to Wall Street's Back Stage Productions in Kingston, to shoot a music video for rock band Blondie over the weekend of April 16-17. Featuring a staff of 75 and over a hundred extras, "Mother," the new single written by singer Debbie Harry, has already made charts in Europe. Harry plans to return at an undisclosed future date, to perform a secret concert in thanks to the volunteer zombie horde.
Local performer Carl Welden, who lives in the shadow of Fann's Plaza, will be engaged in Arm-of-the-Sea Theater's La Cosecha (The Harvest), on Friday April 29 at 7pm in Quimby Theater, SUNY Ulster, Stone Ridge, NY. Vivid mask characters and live music propel this visual art tale & poignant social drama about an immigrant farm worker. Welden and Cathy Muller team up with co-director Patrick Wadden to bring to life the show's multi-scale paper-mache characters. "Our food supply is sustained by immigrant workers who are largely invisible to us," said Wadden. "This piece pulls back that curtain just a bit." The two-man orchestra features Dean Jones on trombone, keyboard and percussion and Juan Basilio-Sanchez on vocals and guitar.