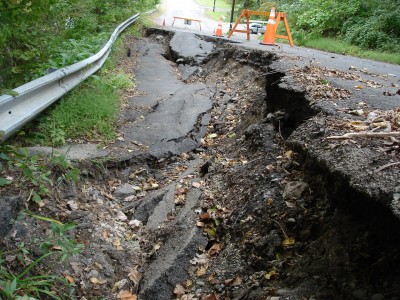 The intense hurricane which swept through New York during the weekend of August 28th left many areas devastated. But for residents of James Street in Rosendale, the collapse of their road into the Rondout Creek has helped ease ongoing traffic issues.
James Street has been closed to thru traffic since Hurricane Irene's aftermath, due to part of the road being washed out. Although relatively high above the creek, the section of undermined highway suffered severe erosion to the underlying embankment.
Now, only local residents may drive past the roadblock — to the joy of many home owners.
Located on the south bank of the river, parallel to Rt. 213 (Main Street), James Street is a close-knit town road lined with single-family homes. For many years — as Rosendale's population grew — James Street gradually became a well-traveled shortcut, allowing motorists to bypass the long traffic signal down by Rt. 32.
The ever-increasing number of vehicles passing down James Street negatively impacted the residential quality of the avenue — until Mother Nature stepped in last month and put a stop to it.
"I think most people are thrilled," concurred Richard "F-Stop" Minissali, a James Street homeowner and town coucilman. "I haven't spoken to anybody who complained," he remarked. "It's never been so quiet and safe as it is now. In general, I think there are a lot of people here who would agree the road just gets too much traffic."
F-Stop mentioned the traffic on his street sometimes gets severe. "I've had two cars totaled, just parked in front of my house — people losing control and driving to rapidly — and I know there's a telephone pole that got taken out," he said.
Ulster Community College and SUNY New Paltz listed the James Street shortcut within their directions for how to best commute through town. "It's a highly residential street, a lot of kids, as densely populated as it can get in our area," Minissali stated.
Minissali said the town has not made concrete plans to fix the road yet. "People have mentioned it, but as far as a date, when it's going to get repaired, that hasn't come up," he said. "It looks to me that it's not going to be an easy fix, throw some dirt on the side of the road and repave it," Minissali observed. "It's going to need some support, piers or something, to build the road back up."
Rosendale highway superintendent Carl Hornbeck said the section which collapsed is 120 feet of roadway, sunk down about four feet, in some places six feet inwards from the guardrail. The road will be closed indefinitely, "until we find out where we stand, what FEMA is going to do, what avenues we have to go to — as far as hiring an engineer," Hornbeck said. The fallen bank is outside the Flood Control Project, Hornbeck noted, but the Army Corps of Engineers will be looking into possible future inclusion.
Five years ago, there was a fatality on James Street, not far from the current road collapse. A woman walking down the side of the road got hit and killed. Around that time, residents collected signatures and had the town put a stop sign at Brown Aveue in order to slow down thru traffic.
During the Rt. 32 bridge repair five years ago, James Street was passed over as an alternate route, due to public outcry. The Main Street detour resulted in many months of additional delays, while work was completed. More recently, James Street was shut down during the 2011 summer street festival, with special permits issued allowing only immediate residents permission to park there.